http://biossusa.com/store/


* 20만개의 제품 보유
* Alexa Flour, Cy3, Cy5, Cy5.5, Cy7, FITC, HRP, PE 등의 다양한 Fluorescence Dye와 conjugation된 antibody 제공
* WB, ELISA, IHC-P, IF 등의 다양한 Application


[ Products ]
Primary Antibodies
Conjugated Primary Antibodies
Secondary Antibodies
Protein & Peptides
Conjugated Secondary Antibodies
Secondary Detection Reagents



★December 2013 Publications

매달 수많은 세계적인 저널에 Bioss 제품이 인용되었습니다.

2013년 12월 약50여편의 논문에 인용되었으며, 그 품질과 서비스를 보증합니다.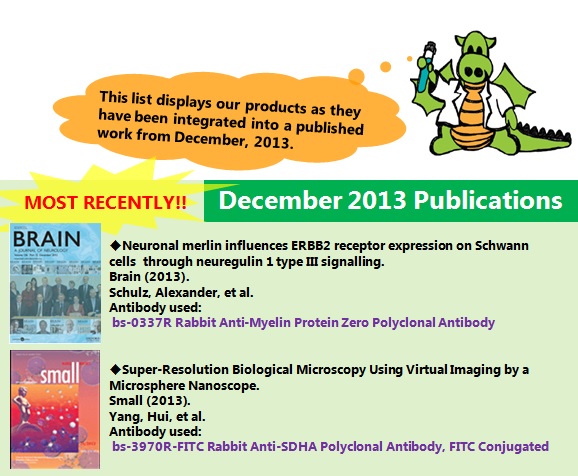 bs-0458R Rabbit Anti-Thioredoxin Polyclonal Antibody
§
First characterization of a
teleost
Epstein-Barr virus-induced gene 3 (EBI3) reveals a regulatory effect of EBI3 on the innate immune response of peripheral blood leukocytes.
Li, Mo-
fei
, et al. Developmental & Comparative Immunology (2013): 514-522.


bs-2013R Rabbit Anti-Phospho-NRF2 (SER40)Polyclonal Antibody
bs-1074R Rabbit Anti-NRF2 Polyclonal Antibody
§
Graptopetalum
paraguayense
and
resveratrol
ameliorates
carboxymethyllysine
(CML)-induced pancreas dysfunction and hyperglycemia.
Lee,
Bao
-Hong, et al. Food and Toxicology (2013): 492-498.


bs-2901R;Rabbit Anti-Reck Polyclonal Antibody
§
Acetylsalicylic Acid Inhibits IL‐18‐Induced Cardiac Fibroblast Migration through the Induction of RECK.

Siddesha
,
Jalahalli
, et al. Journal of Cellular Physiology (2013).


bs-4938R;Rabbit Anti-SDF1 Polyclonal Antibody
bs-1011R;Rabbit Anti-CXCR4 Polyclonal Antibody
bs-2553R;Rabbit Anti-CXCL13 Polyclonal Antibody
§
Renal Interstitial Infiltration and Tertiary Lymphoid Organ
Neogenesis
in
IgA
Nephropathy.
Pei,
Guangchang
, et al. Clinical Journal of the American Society of Nephrology (2013).


bs-1207R;Rabbit Anti-GLUT3 Polyclonal Antibody
bs-0472R;Rabbit Anti-GLUT1 Polyclonal Antibody
§
Significant Reduction of the GLUT3 Level, but not GLUT1 Level, Was Observed in the Brain Tissues of Several
Scrapie
Experimental Animals and
Scrapie
-Infected Cell Lines.
Yan, Yu-E., et al. Molecular Neurobiology (2013):1-14.


bs-3010R;Rabbit Anti-phospho-Bax Ser184 Polyclonal Antibody
§
Melphalan
-Induced Apoptosis of EBV-Transformed B Cells through
Upregulation
of TAp73 and XAF1 and Nuclear Import of XPA.
Park,
Ga
Bin, et
al.The
Journal of Immunology (2013).


bs-0061R;Rabbit Anti-beta-Actin Loading Control Polyclonal Antibody
§
Ulinastatin
Attenuates Experimental Autoimmune Encephalomyelitis by Enhancing Anti-inflammatory Responses.

Feng
, Ming, et al. Neurochemistry International (2013).


bs-2013R-PE;Rabbit Anti-phospho-Nrf2 Ser40 Polyclonal Antibody PE Conjugated
§
Mitigation of radiation induced hematopoietic injury via regulation of cellular MAPK/
phosphatase
levels and increasing hematopoietic stem cells.

Patwardhan
, R., et al. Free Radical Biology and Medicine (2013).


bs-5453R;Rabbit Anti-phospho-Insulin Receptor Beta Tyr1185 Polyclonal Antibody
§
Stearic
Acid Serves as a Potent Inhibitor of Protein Tyrosine
Phosphatase
1B.

Tsuchiya,A
., et al. Cellular Physiology and Biochemistry (2013):1451-1459.


bs-0456R;Rabbit Anti-LHRH Polyclonal Antibody
§
Distribution Patterns and Developmental Changes of
GnRH
and
GnRHR-Immunopositive
Cells in the Pituitary of
Ji
Ning
Gray Goats.
Xiao,
Liu,et
al. Pakistan Veterinary Journal (2013).